We are very pleased that you have taken the time to come and learn about this new adventure in education. You will discover that this private education is different from any other education offered anywhere.
Kimber Academy is a Private K-12 Academy.  
Our family-centered program is different from any other private school you have ever read about or experienced.  We are restoring education to its rightful place by putting parents in charge of their children's education. 
The curriculum of Kimber Academy focuses on God, Family, and Country – restoring what has been lost or ignored in so many other educational systems.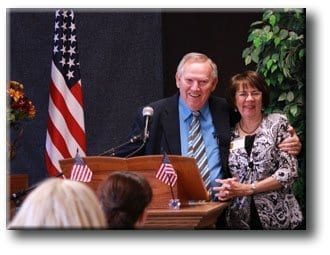 Restoring a focus on God
Common religious principles are interwoven into all the core subjects of history, math, language arts and science. 
Restoring a focus on Family
The five core subjects (those listed above, plus Religious Studies) are designed to be taught only 12 hours per week, so that family members can spend more time together working and playing.  (Our policy:  No homework assigned by teachers.)
Restoring a focus on Country
We teach the Constitutional principles and values which made this country great, and honor America's Founding Fathers.  Students will be taught the 28 Principles of freedom from our country's Founding Documents, by studying The 5,000 year Leap written by W. Cleon Skousen, and how to use those principles to solve America's problems.
Class Organization
Our classes are organized similar to the "Little Red School House."  There are three age-groups:
Senior Class – ages 12 and older
Junior-B Class – ages 9 – 11
Junior-A Class – ages 6 – 8
At Kimber Academy you will be pleased to watch your children's spiritual growth alongside their academic progress, as they apply the principles of the curriculum.
-Dr. Glenn J. and Julianne S. Kimber
---
We invite you to navigate this site to see for yourself if this new, spiritually-oriented type of education would be helpful to you and your family in achieving your family's educational goals.
When you compare our curriculum to that of other educational programs, you will see that our curriculum is written in such a way as to help guide the students through their educational experience, rather than direct them.
This allows students to be able to use and develop their own creativity and love of learning, as they create their own text books, learn to serve others with their academics, and develop a strong relationship with their Creator